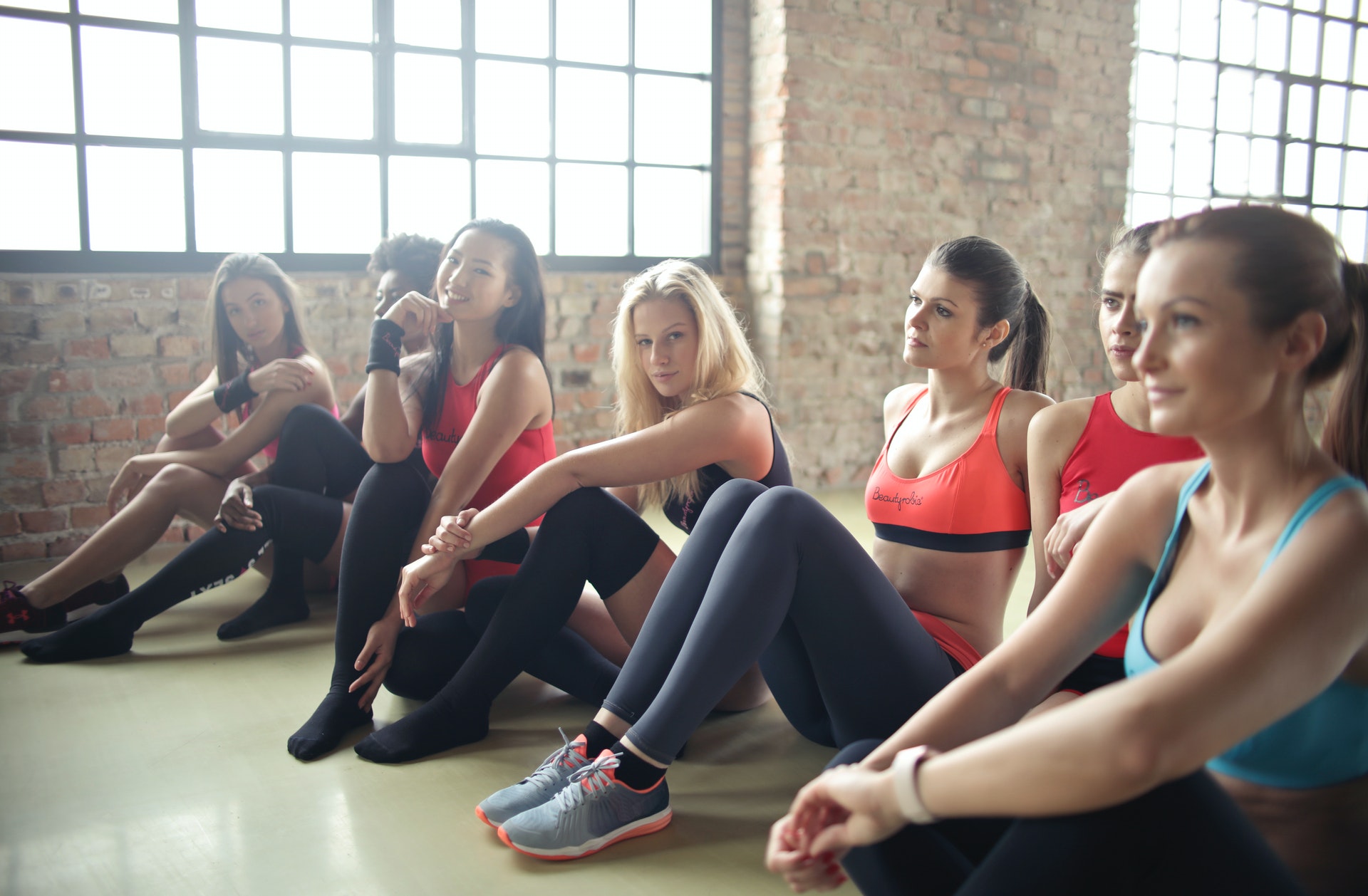 Doing sport with friends!
Whether you want to continue to stay active this summer, to share your passion, or to challenge yourself, this is the time to do sports with friends! As you can imagine, we have more fun when we are doing sport with friends and it allows us to be more assiduous too! We're off to discover Fun sports and more atypical ones to discover. Take advantage of all the opportunities that arise to laugh with friends.
Some fun sports to do with friends
Motivation, challenge and effort are good. But it's often not enough to decide to go and do sport. Don't forget that sport is fun, especially in this period of relaxation that is summer! Beach volleyball, badminton, ping-pong or petanque, the choice is all yours for your holiday. And even if you're completely lost, it's always a good opportunity to have a laugh! And laughing is also doing sport! 😂
Yoga: between flexibility and laughter!
If yoga doesn't really appeal to you, it's a sport that requires a lot of endurance and flexibility. In addition to the benefits, it's the trendy sport since the quarantine. 😎 And considering the sometimes unexplained postures, no doubt doing it with your friends will be an unforgettable moment!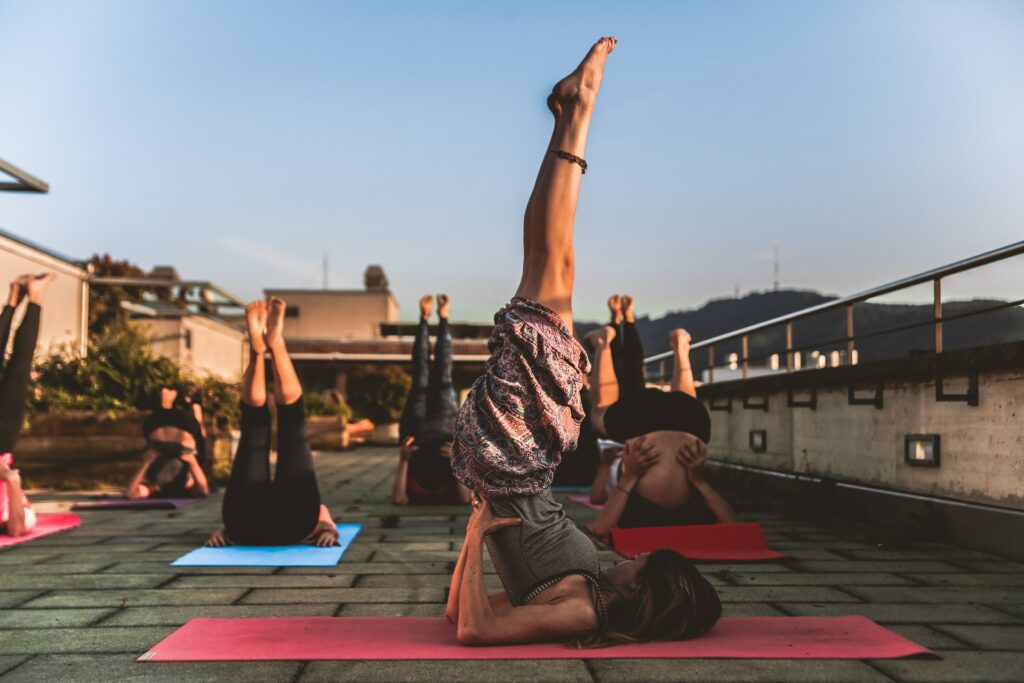 The weirdest sport to do with friends: aquabike
Who hasn't dreamed of riding a bike, in water? Most people actually… But after the first few minutes, you'll see that it's possible to sweat underwater. With an ultra-motivating playlist, and a lot of endurance, you'll be able to reach your goal! You'll have to pedal, like really pedal. This sport will become your best sports date, after a hard day.
Football: classic but ideal for big bands!
For the footballers, it's time to get out your football boots, shorts and other shirts. Make teams, distribute the roles, and let's go for 90 minutes of sport. For the most enduring… 🥵 Otherwise just have a match arranged, you'll have just as much fun.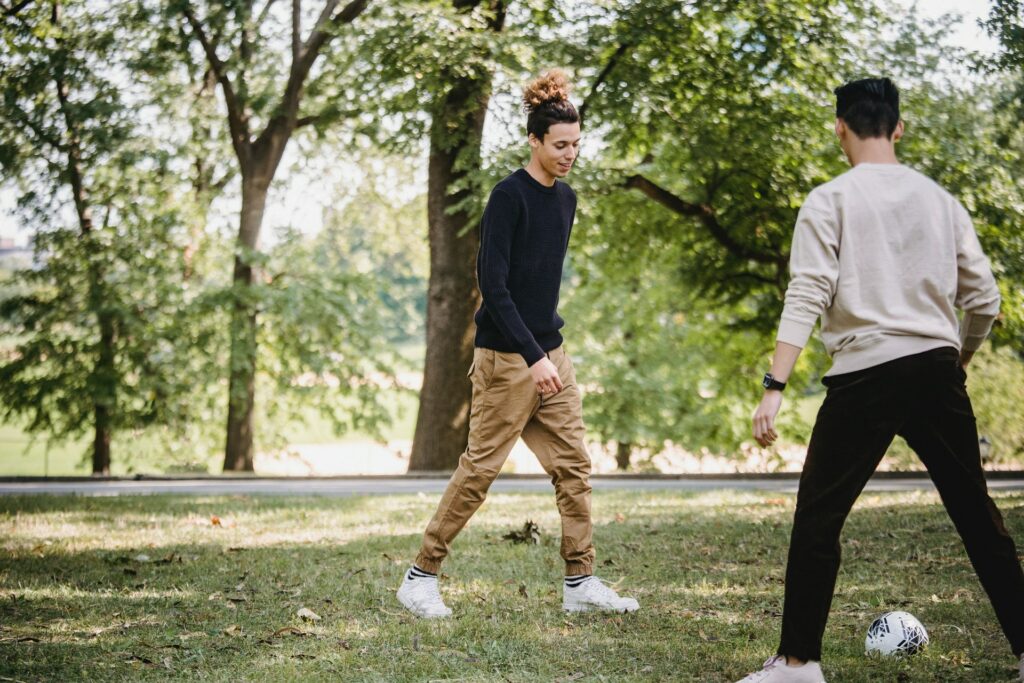 Doing sports with friends to discover new activities
If you're gym junkies, that's certainly not the case with all your friends! Maybe some of them have other passions they'd like to share with you? If you go on holiday with them, it will be a good time to discover new activities that you would never have imagined trying: bike rides, scuba diving, canoeing… Doing these sports with friends will give you new sensations! A great way to get out of your comfort zone and thus gain confidence.
Paddleboarding with friends, or how to go on an adventure!
Special message for those who live nearby the sea, the Paddle is the right compromise for doing sport with your friends! As well as giving you a deep muscle workout and a breathtaking view, Paddleboarding will relax you and allow you to forget the troubles of everyday life. And if the balance is not easy to master once you're on the board, once you're up, you'll just have to paddle and enjoy this moment with your friends. ⛵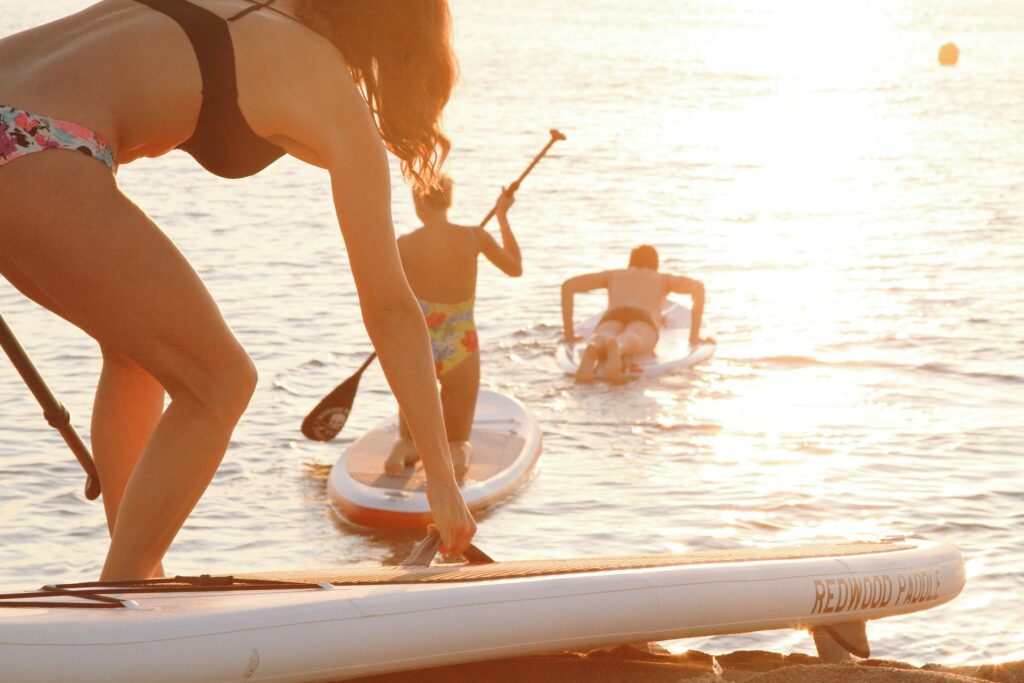 Hiking, for an escape with friends
If you're lucky enough to be able to go to the forest as soon as the weekend arrives, take the opportunity to take up hiking. As well as offering breathtaking views, walking with mates gives you a rhythm and an effective boost that will make you get over your slumps! 😂
We hope you've had a chance to try it all on your holiday! And, maybe when you get back to school, you can do sports with friends at the gym!