Challenge your friends with Truth or Dare! 
Discover the best Truth or Dare game! Make your evening with friends or your partner unforgettable as you take on various hot and heavy challenges with the Truth or Dare app. What will you choose: Truth or Dare? Choose between daring challenges or revealing questions to learn more about your friends.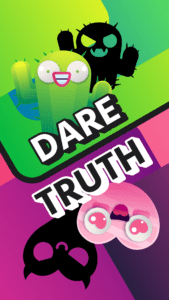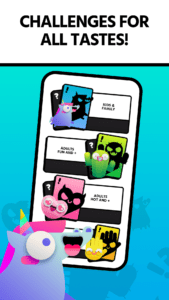 What users think of the Truth or Dare app
The best Truth or Dare 
My friends and I were looking for a fun and exciting Truth or Dare app with tons of questions and exhilarating dares! The app gives you the chance to learn more about your friends and set up some pretty racy situations.
The Truth or Dare Game with the best questions!
Cool Truth or Dare app that can be played by many or one on one! There are a quite a few dares available with each level, so you can play for a while before you've seen it all! Bonus points? You can create your own dares.
The perfect Truth or Dare app! 
A great game to play with friends to learn more about them and play out a few pretty funny situations! The extreme level that can lead to just more than friends is definitely a plus! 
The best of the best, hands down. 
This Truth or Dare game isn't for the faint hearted—but we had an incredible night! And once your friends are gone, you can play it with your partner for another kind of fun. I recommend!
A good app to get the party going 
I was looking for a Truth or Dare app not targeted towards kids or teens…and I found it! We had such a fun night! What's more, the dares are amazing and we didn't even go through them all! 
A great Truth or Dare for adults 
Fantastic Truth or Dare game for adults! We had a really fun night and learned so much more about each other! The dares are awesome and the extreme levels are just that!