Activities to do with friends at night
With the return of fine weather and warmth, the luckiest people have been able to take advantage of large green spaces or their gardens, organising meals, aperitifs or even parties! And you're right! Let's go outside to enjoy the temperature, the stars at night, and the mosquitoes… Well, this argument is not valid, but let's see what can be done with those activities to do with friends at night!
A classic activity to do with friends at night!
It's the little bit of madness of every summer. That little thing where you say to yourself "come on, I'll do it! A classic, of course, but whether it's on holiday or throughout the year, it's still great fun to do. It's… refreshing. And even more so if you have a swimming pool or if you live near the sea! The activity we suggest to liven up your outdoor evening is: a midnight swim. And respect the tradition, it is done naked. Thank you.
Lights, Camera… Action!
The second activity to do with friends at night that we suggest is to put on an outdoor cinema, right in the garden! Private screening galore, a big canvas and an overhead projector and you're all set. For those who don't have the space, you can always ask about the projections that are made in town. Indeed, often in the summer, cities set up movie nights in public places, for example large squares and parks. Whether it's in picnic mode or on the bonnet of your car to play it American style, you'll be sure to get a change of scene from the classic dark room!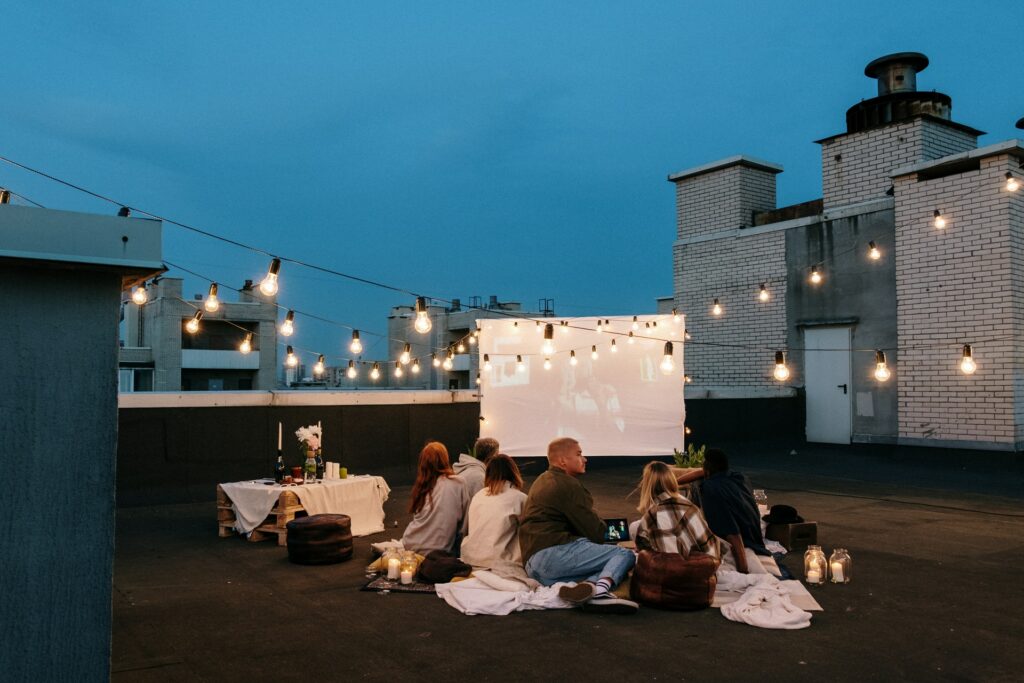 Watching a movie? THE activity to do with friends at night
If the cinema is too common or expensive, we have a low-budget tip to make your evening meal more special. You can put candles and string lights all over the garden to create a magical, fairy-tale atmosphere, even romantic! You'll agree, it's a bit more fun than an indoor meal… Some will even find it as an opportunity to tell stories, the first steps to scare themselves ("ouuuuh" is the sound of a ghost 👻)
All these rather classic activities are compatible with each other. If you do one, there's nothing to stop you doing the other two at the same time. You can start with a fairytale meal with friends, while watching a good movie, and if the heat gets too much, you can always cool off with a midnight swim! 😎
For something more atypical and original…
If you want to experience some semblance of adventure without going far away, try pitching a tent in the garden and camping for a night! This activity to do with friends at night will allow you to be close to nature, and to be a little scared (you are not in a haunted mansion either). And in case the weather turns bad, don't hesitate to move the tent into the living room. You'll be sheltered, have all the comforts you could possibly need and feel like a novelty! Some people have tried it, and the result was awesome! 🤯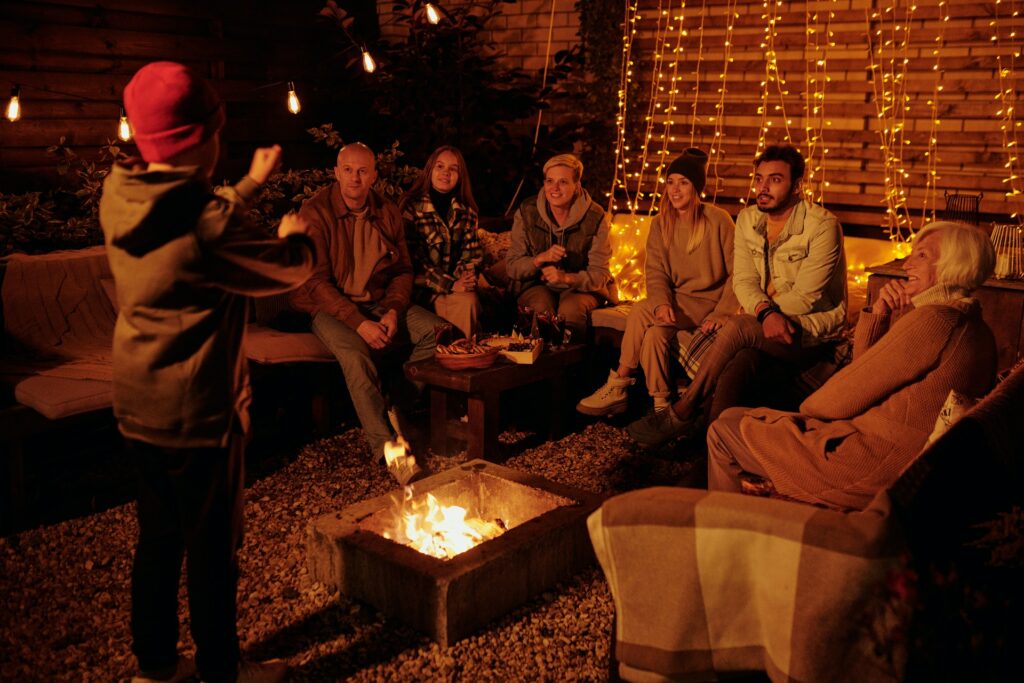 This activity is reserved for the brave ones, the artists, …
For the more creative: how about organizing a play or a staging to give life to your meal? With friends or family, the result is bound to be hilarious. No big preparations are necessary, just take whatever you get your hands on. You can either re-enact an existing play or try to recreate your everyday life with friends. Everyone imitates someone else, and choose to re-enact a typical day, or a major event that happened. Those who weren't there should have a good laugh too.
An activity to do with friends in the evening: a surprise party!
The last of the activities to do with friends at night that we suggest is less atypical than the two previous ones, but the result will be worth the investment! If you are a bit of a prankster and at the same time very thoughtful, you can always organise a surprise party… at one of your friends' homes! We could have put this activity in the top jokes between friends to do, it's true. 😩 So, break into his or her house while he or she is away (find a partner in crime in his/her family though, otherwise it's just a break-in) and throw a surprise garden party! When he/she comes back, he/she will be most happy and there is a good chance that you will be voted the best friend in the world.

With so many activities to do with friends at night, there's no reason why your summer can't end on a high note! We'd like to join you… 👀