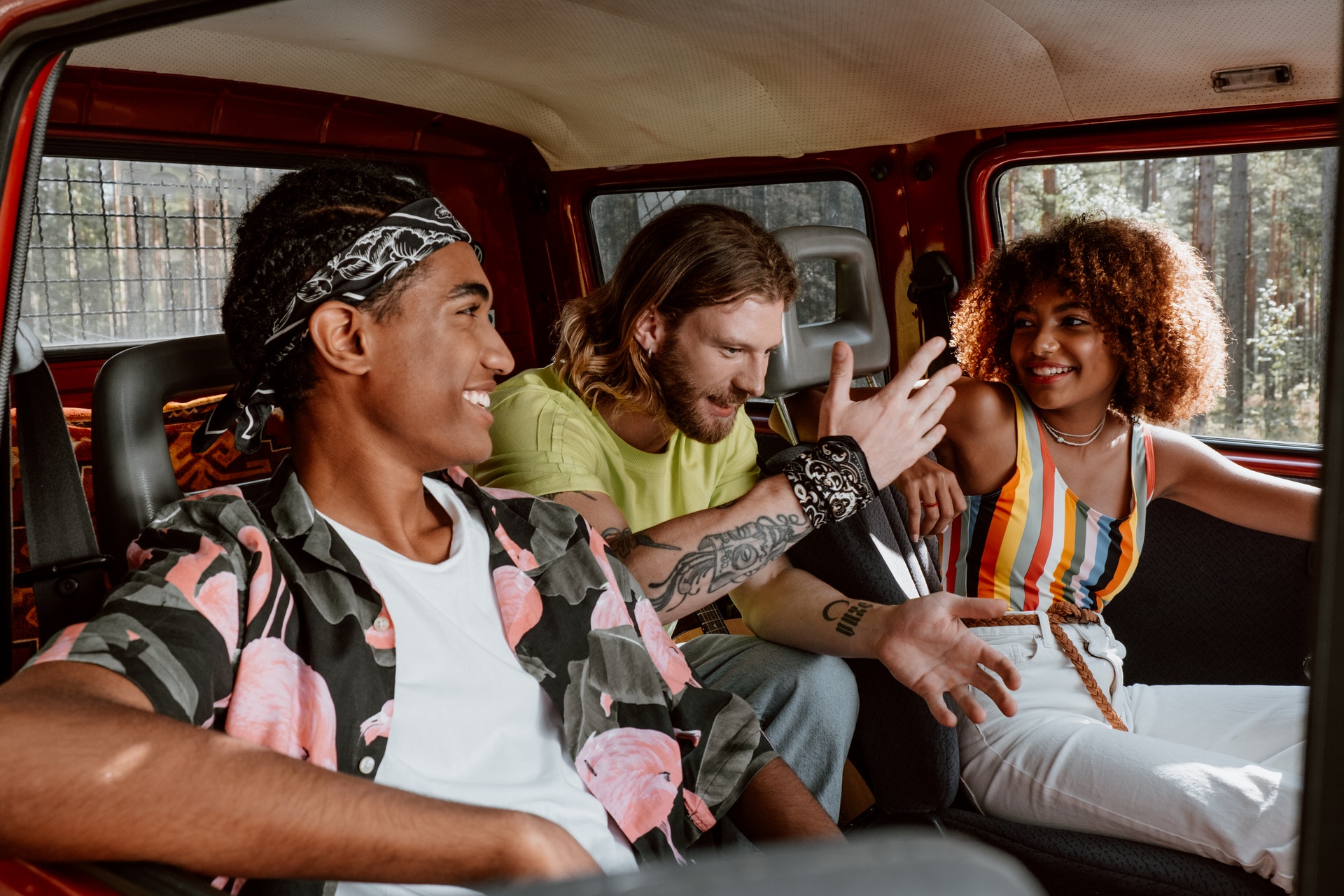 The best advices to go on holidays with friends!
Have you ever dreamed of going on vacations with friends? Whether it's for a weekend, a complete week or sometimes for months (yes, for those who can afford it)… If you've all been able to agree on your holiday dates (or if you're studying and have plenty of holidays, how luckyyyy), it's time to start organising a trip! Whether it's in a city, or even on the other side of the world… In any case you need to be fully organised. We give you all the keys for successful holidays with friends!
The four keys to a successful holidays with friends!
Choose the right destination!
For successful holidays with friends, the first thing to think about is the destination. It's a real deal, because depending on the number of people you will be, not everyone will want to go to the same place. Worse, some will even have demands… "Ah no, no, let's be clear, holidays without a day at the beach… That is so unacceptable". 😂 And we can understand! It's annoying, but we understand. That's why you have to agree with everyone on a destination and see what original activities you can do with your friends during your holidays. Sport or rest, beach or ski, camping or roadtrip, city or a country… So many choices, which will take a lot of time and energy… The best thing is to discuss about this over a drink.
Money, money, money, must be funny
As we know, money is often an issue. Each person needs to establish their own personal budget for the holidays with friends. Indeed, if you have a very small budget, it may not be the best idea to go to the Australia or Asia. Think about for a smaller, and more economic, travel. If you plan your trip well in advance, you will be able to put money aside, or better still, afford cheaper transport. Once you're there, we advise you to use an app that will allow you to know exactly who owes money to whom… It will be healthier for you and also easier, especially if you want to keep your mates. A debt paid is a friend kept 😉 !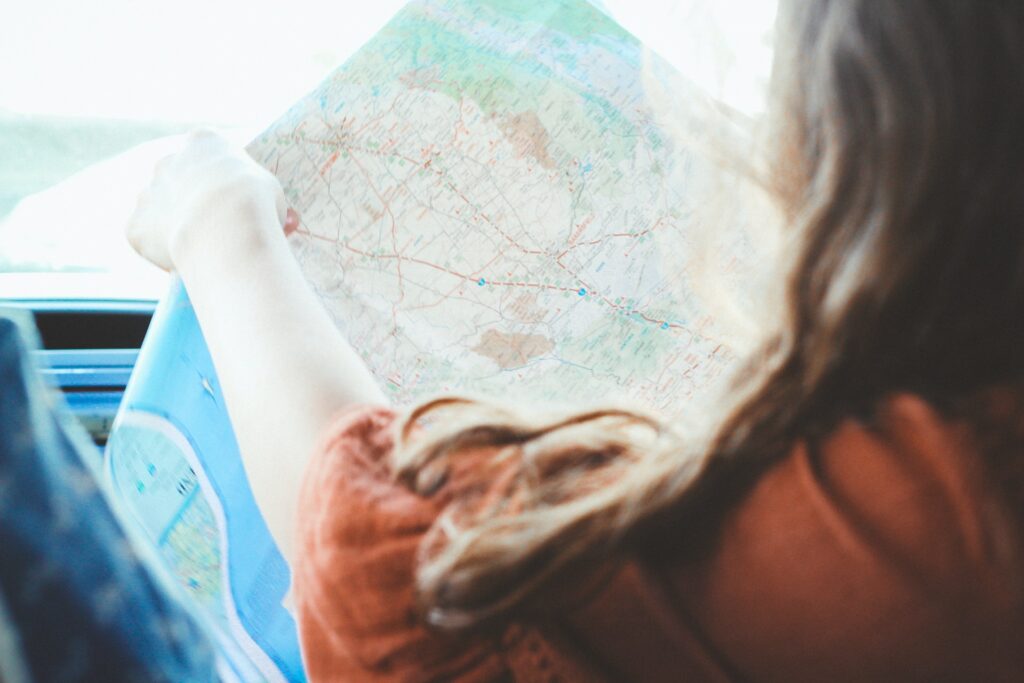 Holidays with friends: which means of transport?
Speaking of ways to travel… Defining the place and the budget is done. Now let's move on to the key step: how do we go to the destination? By plane, by car, by train, by bus or even by hitchhiking? (well, it's risky, but why not). If you're well organised, you can even coordinate your departures and arrivals, and start your holidays with friends a little earlier! The journey is at least as important as your holidays! For small budgets, you may have to bet on very early morning or late evening transport… It's up to you whether you want to prioritise your sleep or your money 👀 (for us the choice is quickly made)
And to top it all off: COMMUNICATE!
Finally, the essential element to go on holidays with friends is above all to choose them well (your friends) and to have an opened communication. Yes, it is important when living in a community to share tasks, to respect each other and especially to have excellent communication. Basically, it's as if you were in a couple with each of your friends.  Well, it's a bit extreme, we don't ask you to kiss them or make love with them, even if it can happen during a game of Truth or Dare… 👀 But that's nit important.
Here, we're talking about sticking with your friends, locked up together or almost for a long time. You're going to live for several days, or even several weeks, sharing each other's moods: a bit like a sort of holiday camp for grown-ups. As you can see in some reality shows, when there is no prior connection, things go wild. And even when there is a connection, it can go crazy. In fact it's a mess all the time on those shows? 🤔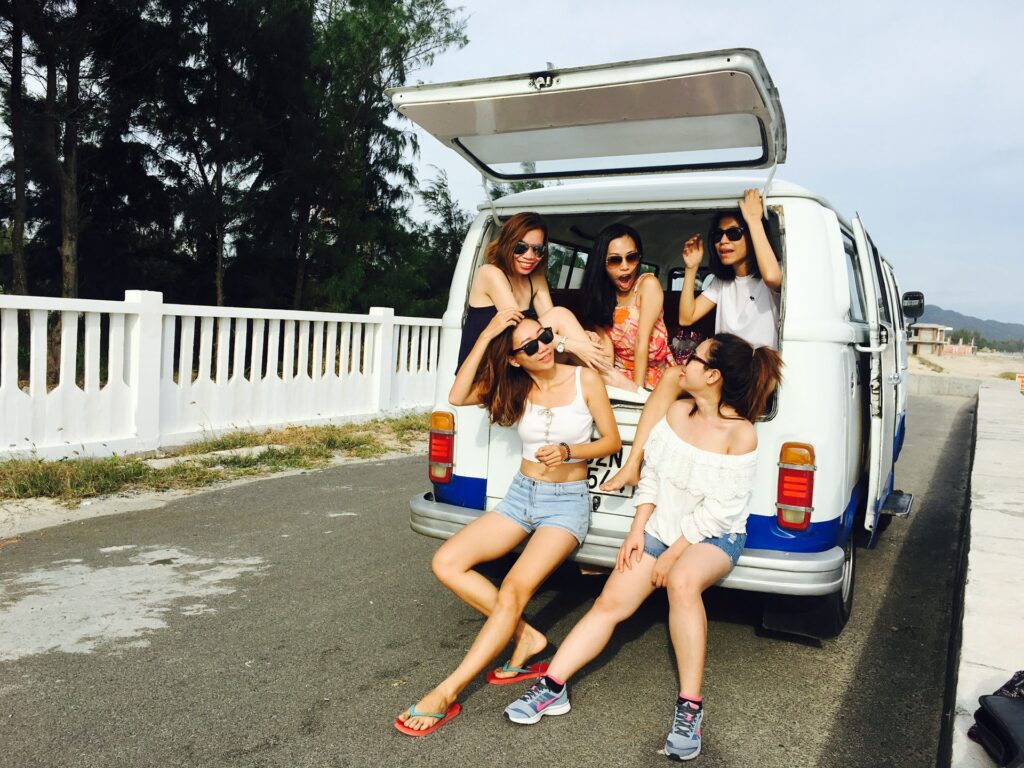 Some examples of holidays with friends
The Roadtrip
A roadtrip is literally a trip on the road (thanks genius, we wouldn't have guessed it…). Whether it's by car, by van, or even by motorbike… All means are good to travel. The aim of a road trip is to discover destinations that are often far from hotels and holiday clubs, with a strong feeling of freedom.
The roadtrip is a way of travelling slowly, in slow motion. An advantage is that you can discover a city and its contents at your own pace. You are not blocked by a reservation that has to be made by 10am, or a planned and organized tourist roads that forces you to skip certain visits in favour of others, which are longer and not always better. You can stop off at one place, or stay there for several days before leaving again. It is finally the option of freedom without constraints (or few). 
Rent a house/villa
Book yourself a beautiful house or even better, a villa in order to go on holiday in comfort! If that's not the good life… You'll live in complete modernity and at your own pace. And if you want to stay up late and sleep all morning, go ahead! You won't miss any of the organized activities (although…). It may even give you a taste of what it's like to be roommates with friends! On top of all that, the more people you go with, the bigger your budget will be. It makes sense. 😂 This means you can rent a house that would make reality TV celebrities faint. You'll just have to be very careful not to blow the deposit which, depending on the house, can reach astronomical sums. 
Going camping
So let's get one thing straight, there's camping and there's camping. Camping where you take a caravan or motorhome, and where you don't really stay anywhere, where you can move around as you please. If you find a camper van park or a safe place to park, then your camper van will be more of a return point, where visits will be on foot, by bike or why not by scooter, but basically you are mobile (poof). Or there's the campsite. In this case you go straight to a sort of holiday club. We'll certainly find that good old Herb there, and the foam parties on Wednesday evenings, the aquagym at 8am every morning in the pool near the refreshment room with the Pepsi parasol… 😉
Shortly, a slightly low-cost version of a resort hotel! The advantage is that at least you have a real roof where you can sleep, take showers in complete serenity, without asking yourself any questions. We let you choose the formula that suits you best.
Going on holidays with friends can quickly turn into a nightmare! Especially if you don't take care of the organisation. Indeed, it is not a question of satisfying one person but several, who do not necessarily have the same personality, or the same expectations. We hope that with all these tips you will succeed in your holiday with friends!